Childrens Beginner Surf program 3 days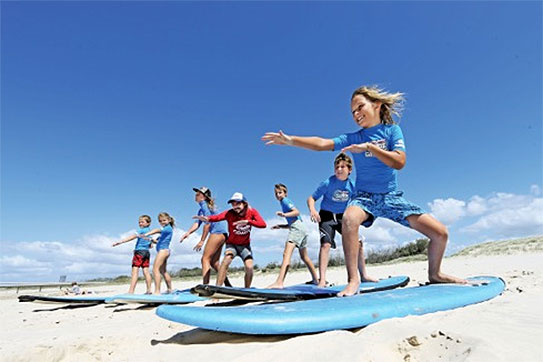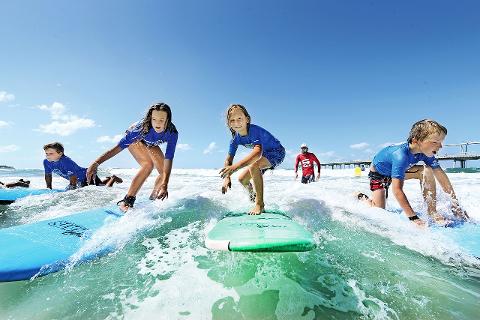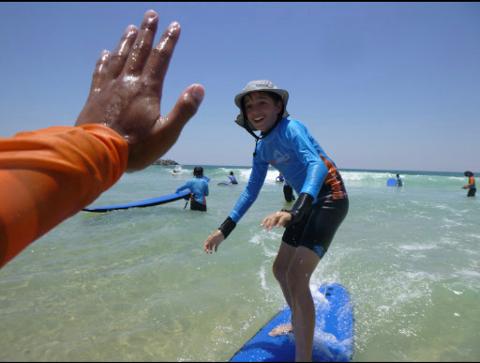 Duration: 6 Hours (approx.)
Location: Surfers Paradise, QLD
Product code: PU0Y1L
Before you start your program it is important for you to identify what level surfer you are unfortunately its not as simple as how many lessons you have previously
done. Surfing is such and individual sport and everyone progresses at a different rate. You may have been taking lessons with a mate,
done a beginner class with another surf school or never tried before, but until we get you in the water we cant really tell- this will give you a guide to see if you are ready for the 3 day program

If you want to sign up for one of our programs we would assume that you have at least "had a go" and know that you want to commit. You may have participated in a beginner surf experience with us or somewhere else, or you may have had a couple of lessons with a mate or family member.
So on the first day of the program we would expect you can at least do the following :

Minimum age 6 years Maximum 12

Stand on a board using the 4 or 2 step method unassisted by the instructor

Ride a broken wave in the white wash ( even just for a few seconds) unassisted by the instructor
Be able to identify the parts of the surf board

Basic surf safety

Recognize hazards in the surf such as rips
Be able to swim at least 25 meters in the surf and tread water
If you are not able to tick all the boxes from the list above we would suggest you start with a beginner surf experience where these things are covered.
Each day of the 3 lesson program will cover some theory on the beach and of course lots of time in the water. By the end of each lesson you will have to reached certain levels so that you can progress to the next level.

A basic guide to some of the things we will cover on each day:
Day one ( level 1 beginner) White wash

Review of your skills and knowledge from previous experience
Basic introduction to waves, conditions, swell, wind and tides
Correct warm ups and stretches
Basic Paddling technique

Practice 2 step method

Basic board riding on foam board- correct placement of feet etc.
Basic surf etiquette

Technique review via photos
Day two ( level 2 beginner) White wash

Waves and conditions continues, wave selection
different breaks and reading forecasts
introducing pop up technique

Improve paddling techniques and maneuvering the board

Body positioning on a shorter board

Surf Safety continued

Day three ( Level 3 beginner) White wash potential green waves conditions permitting

Mastering pop up
Pushing through the waves

Sitting on the board
Turning and catching waves

Technique review via photos
Dates for up coming programs:

( 11th April 23 + 12th April 23+ 13th April 23)
Whats next ? Once you have reached all of these mile stones you will be ready to hit the green / unbroken waves. Talk to our instructors about an Intermediate program or private coaching session